Swift Broadcast is our entry-level product that delivers a blend of entertainment and engagement via traditional broadcast technology. Tailored specifically for Aged Care communities and particularly popular among residents with limited mobility, Swift Broadcast serves as an ideal choice for facilities looking to offer more than standard television.

Swift Broadcast offers traditional broadcast TV channels and EPG (Electronic Program Guide) selection. Unlike other entry-level options, our broadcast platform also includes functionalities like messaging, notices and alerts delivered right to the TV screen.
Free-to-air channels and multi-language radio options are available to cater to diverse resident needs. The system is bolstered by an easy-to-use Content Management System (CMS), making the customisation of information straightforward for staff. Swift Broadcast also supports live streaming and the ability to send pictures and videos to the community via our connected app, My Family My Community.
The product holds particular appeal within dementia care facilities, offering content and engagement features carefully designed for this specific demographic. We are able to offer a hybrid subscription package that includes Swift broadcast and Swift access to address the varying needs across your community.
Unsure which
Product

is right for you?
Internal & external communications
Building an inclusive community starts with effective communications. Swift Broadcast allows you to share essential community information like menus and planned activities. Through the Swift-connected app staff can also share pictures and videos, enhancing the sense of community among residents.
Specialist content
Our commitment to inclusivity extends to providing specialised content for dementia care and residential aged care demographics. From low sensory content designed to reduce anxiety to exercise routines like chair yoga and sit dance, Swift Broadcast ensures everyone's needs are addressed.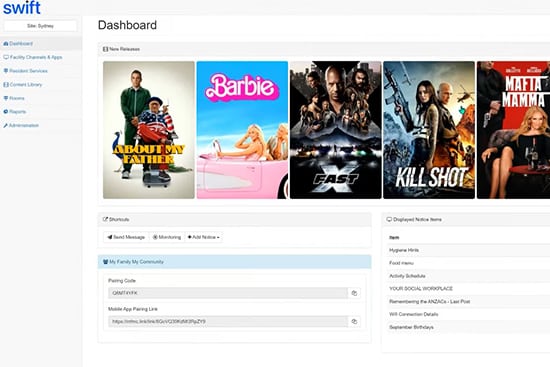 Easy-to-use platform
Swift Broadcast's Content Management System (CMS) is designed to make the lives of staff members easier. It serves as a one-stop solution for sharing crucial information, thereby saving time and increasing operational efficiency.
Premium entertainment
Specially curated channels of content with the aged care demographic in mind. Latest releases, vintage classics, dedicated drama, comedy and adventure channels, plus always-on subtitles available. You'll find something for everyone on Swift Broadcast.
Available on Swift Broadcast
Send us your enquiry and our team will be in touch with you shortly.